My link with the McGees is the fact that my g. g. grandfather Charles Murray brought his nephews and niece to NSW after their parents died. Five orphaned children of Dorinda McGee, Charles Murray's deceased sister rrived in NSW on the  "Hilton" in 1855..  See the Murray families chain migration here.
In 1854 Charles MURRAY paid £22.10.0. towards the cost of passages of the following :-  James MAGEE (25), Francis MAGEE (22), Thomas MAGEE (17), Charles MAGEE (14) and Mary MAGEE (17)  Immigration Deposit Journals AO Location 4/4576 Reel 2668)
They arrived per the "Hilton" on 2 October 1855 (AO Location 4/4792 Reel 2137 & 2470) On their shipping indent, they said their native place was Templecairn, Fermanagh. Their parents John** and Dorinda were both dead. Religion: RC and could both read and write. Relations in Colony: An uncle Charles MURRAY living at Ulladulla.
.
 In the meantime,while preparing the McGee history,   this extract from L D Lyons 1973 paper  THE MORRISONS OF 'BULGA CREEK' and 'TRALEE' is relevant:-
.
The Francis J. McGee Family: (Highlighted below.)
The eldest daughter Mary Anne Morrison was born on 12 June 1864. She married Francis J. McGee, formerly of Conjola, in 1891 when he was in charge of the Bulga Creek School. They lived in a cottage not far from the school until his transfer to the Tuggeranong Public School. There were 7 children of the marriage -. the first four were born at Bulga Creek and the other three at Tuggeranong. When Mr McGee retired in 1927, the people of Tuggeranong and district presented him with an illuminated address which stressed his public service including his long period of teaching (36 years) during which he had striven to build up the character of his pupils. His activities in sport and Church affairs were spoken of in glowing terms and he was referred to as the father of cricket at Tuggeranong'. In thanking the people, Mr McGee said his reward for his long years of teaching was to see the sterling fellows around him who had been his pupils. He felt some pride that he had helped to train some good citizens and worthy Australians. He had always endeavoured to inculcate principles making for character, independence and respectfulness; much of the success of his school work had been due to his pupils' upbringing in their first school – their homes. Mrs McGee's kindness and neigh­bourly spirit were commended by the several speakers who referred to her as a second mother in the district, especially times of sickness.
Mr McGee returned to Conjola and, with the aid of his eldest son, worked a small property. He is buried at Conjola whilst his wife, who died at the Lane Cove home of her daughter Mary Lowry on 12 September, 1944 is buried at the Field of Cemetery, Sydney.
In addition to other activities, Mr McGee will be remembered for his efforts in introducing orderly beekeeping at Bulga Creek and Tuggeranong and in encouraging Irish dancing, three of his children – Michael, Mary (who married George Lowry of the staff of the War Historian, Dr C.W.E. Bean) and Him (now Professor J. D.McGee), were apt. pupils of Mr Joe Spillane of Goulburn. Michael taught three of the 'Tralee' Morrison children – Margaret, Ted and Clare – to do Irish jigs and reels. Easter Monday Sports at the original 'Tralee' property would have been less entertaining had items from these gifted dancers and the

accompanying tunes played on the violin by Uncle Frank been missing from the programme.
The planting of trees was another of his hobbies. He organized arbor days at Bulga Creek School and seeds from trees planted there were given to Mr T.C.G. Weston for propagation at the Canberra Nursery. The resulting plants are said to have formed part of the pine plantation at Mt Stromlo that was burnt in the disastrous fire of 1952.
Two of the older McGee children – Phil and Kathleen – have gone to their reward. Phil was a member of the firm of Wallace & McGee of Dubbo which during World War II constructed many large buildings at military camps in the Central West of New South Wales. Kathleen married a schoolmaster – Fred Cleaver, a member of a well-known Canberra family.
Michael McGee, the third son, followed in his father's footsteps in becoming a Public School teacher and acquiring an interest in trees. He retired a few years ago from the Headmastership of the High Elementary School at Albury. Their family of 10 children include two priests in the Wagga Diocese, and a teaching sister in the Mercy Order.
Another son, Emeritus Professor James D. McGee, has won distinction as a physicist of international renown especially in the field of television and astro-physics and at the time of his retirement was Professor of Applied Physics at the Royal College of Science, London. His academic attainments are set out in 'Who's Who' and give some idea of the breadth of his scholastic interests, his ultimate distinction being his election to Fellowship of the Royal Society in 1966. In his earlier years, Jim was no mean violinist.
Pat McGee was another son who entered the building trade
.
.
The John McGee Family: (Highlighted below.)
Catherine – the second Morrison daughter – was born on 15 December, 1867. She also married a man from Conjola – John McGee, a brother of Frank McGee. Catherine died at the Mater Misericordiae Hosp­ital, North Sydney, on 11 February 1932. There were 4 children of the marriage – Margaret, Frank, Catherine and John. Margaret became Sister Mary Helena of the Mercy Order and was, at the time of her death on 18 October 1963, Deputy Matron of the Mater Hospital. She is lovingly remembered by the many nurses who trained under her devoted care. Frank worked on the South Coast and died at Wollongong. Catherine married Patrick Corkhill of Canberra. They lived in a cottage (now used by the Canberra Water Police) on the shore of Yarralumla Bay.
There is a lengthy account of the Corkhill family in Monsignor McGilvray's 'The Hallowed High Adventure'. Pat and Catherine were another rural family to take up residence in Griffith (A.C.T.) Catherine died some years ago and Pat later married Gladys, the widow of John McGee. John had a dairy farm 'Woodlands' at Conjola where he died on 17 April, 1970.
END of Extract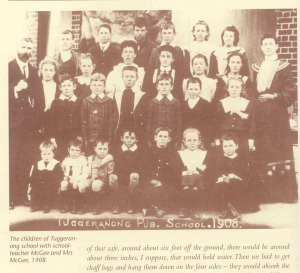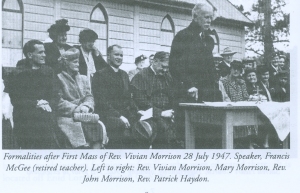 Herewith the first few Australian generations.
….. 1 John McGEE b: Ireland, d: Bef. 1854 in Ireland
….. + Dorinda MURRAY b: Ireland, m: Ireland, d: Bef. 1854 in Ireland
……….. 2 James McGEE b: 1830 in Co Fermanagh IRE, Arr. Australia: 02 Oct 1855 per 'Hilton" from IRE, d: 30 May 1880 in Redfern NSW
……….. + Margaret KEATING b: 1844, m: 06 Nov 1863 in St Mary's,Sydney NSW
…………….. 3 Derinda McGEE b: 11 Aug 1864 in Redfern NSW, d: 1909 in Sydney NSW
…………….. + James Albert BLAKE b: 1863, m: 1885 in Sydney NSW
………………….. 4 James A BLAKE b: 22 Nov 1885, d: 18 May 1920
………………….. 4 John Myles BLAKE b: 10 Aug 1888, d: 08 Apr 1919
………………….. + Clara ELLIOTT b: 1887
………………….. 4 Ivy Margaret BLAKE b: 13 Nov 1890, d: 17 Aug 1966
………………….. + John FITZPATRICK
………………….. 4 Dorothy Isabel BLAKE b: 08 Aug 1893, d: 14 Jun 1972
………………….. + John FITZPATRICK
………………….. 4 Mary Violet BLAKE b: 17 Nov 1898, d: Bef. 1972
………………….. 4 Francis W BLAKE b: 1902, d: 1902
…………….. 3 Margaret Ann McGEE b: 1870 in Sydney NSW, d: 1888 in Sydney NSW
…………….. 3 Isabella McGEE b: 1874 in Sydney NSW, d: 1875 in Sydney NSW
…………….. 3 Mary E M McGEE b: 1875 in Alexandria NSW
……….. 2 Francis McGEE b: 1833 in Co Fermanagh, IRE, Arr. Australia: 02 Oct 1855 per 'Hilton" from IRE, d: 11 Jan 1882 in Bur. Armstrong's Forest, NSW
……….. + Eliza Inesia Teresa HEADCROFT b: 1846 in Braidwood, NSW, m: 26 Jul 1864 in Ulladulla NSW, d: 16 Mar 1922 in Redfern NSW
…………….. 3 John Joseph (Jack) McGEE b: 16 Sep 1864 in Ulladulla NSW, d: 16 Feb 1937 in Conjola NSW
…………….. + Catherine MORRISON b: 15 Dec 1867 in 'Springbank' now Canberra, ACT, m: 10 Jan 1900 in Bulga Creek, Queanbeyan NSW, d: 11 Feb 1932 in North Sydney NSW
………………….. 4 Margaret Helen McGEE b: 1901, d: 18 Oct 1963
………………….. 4 Francis Benedict McGEE b: 26 Jun 1902 in Conjola, NSW, d: 10 Jul 1965 in Wollongong NSW
………………….. + Alma Doris COLE b: 09 May 1909 in Conjola, NSW, m: 14 Nov 1928 in Conjola, NSW, d: 12 Aug 2000
………………….. 4 Catherine Elizabeth McGEE b: 10 Jun 1904 in Conjola, NSW, d: 30 Oct 1965
………………….. + Patrick Francis CORKHILL b: 15 Jul 1911 in Queanbeyan, NSW, m: 1939 in Sydney NSW, d: 25 Apr 1983
………………….. 4 John Lawrence McGEE b: 20 Aug 1906 in Conjola, NSW, d: 17 Jan 1970 in Conjola,NSW
………………….. + Gladys Gertrude COOKE b: 19 Jan 1913 in St Leonard's, NSW, m: 03 Feb 1940 in Kogarah, NSW, d: 08 Dec 1984
…………….. 3 Francis Joseph (Frank) McGEE b: 08 Jul 1866 in Milton NSW, d: 13 Feb 1950 in Conjola NSW
…………….. + Mary Anne MORRISON b: 12 Jun 1864 in Bulga Ck, NSW, m: 11 Jan 1893 in Bulga Creek NSW, d: 12 Sep 1946
………………….. 4 Kathleen McGEE b: 30 Jun 1893 in Bulga Ck, NSW, d: Bef. 1974
………………….. + Frederick William CLEAVER b: 03 Feb 1892 in Queanbeyan, NSW, m: 25 Apr 1915 in Tuggeranong Church, NSW, d: 1986
………………….. 4 Darcy John McGEE b: 03 Apr 1895 in Bulga Ck, NSW, d: 10 May 1976 in Milton, NSW
………………….. + Kathleen Florence McDONALD b: 22 Feb 1900 in Yatte Yattah, NSW, m: 02 Apr 1923 in Milton, NSW, d: 14 Jan 1975 in Bur. Sandridge Cemetery, Mollymook, NSW
………………….. 4 Philip McGEE b: 30 Jun 1897 in Bulga Ck, NSW, d: 20 Sep 1970
………………….. + Ethel Rae PARKER b: 1904, m: 19 Sep 1923 in Dubbo NSW, d: 08 Feb 1978
………………….. + Martha ABBOTT b: 16 Jul 1898, d: 08 Feb 1978
………………….. 4 Michael Reginald McGEE b: 01 Nov 1898 in Bulga Ck, NSW, d: 22 May 1988
………………….. + Dorothy May MACKAY b: 06 Nov 1908 in Downside nr Wagga Wagga, NSW, m: 19 Dec 1928 in Wagga Wagga NSW, d: 19 Dec 1978 in Albury NSW
………………….. 4 Mary Gertrude McGEE b: 14 Nov 1901 in Tuggeranong NSW
………………….. + George Barlow LOWERY b: 09 Sep 1901 in Eaglehawk, Vic, m: 11 Jan 1922 in Queanbeyan, NSW, d: 04 Sep 1971
………………….. 4 James Dwyer McGEE b: 17 Dec 1904 in Tuggeranong NSW, d: 20 Dec 1987 in Auckland NZ
………………….. + Hilda WINSTONE b: 23 Dec 1910 in Auckland, NZ, m: 26 Jun 1944 in London, England, d: 05 Feb 2006
………………….. 4 Patrick Sarsfield McGEE b: 17 Jul 1906 in Tuggeranong NSW, d: 02 Sep 1991 in Lewisham NSW
………………….. + Constance Eva ANLEZARK b: 18 Jun 1906 in Dubbo, NSW, d: 07 Apr 1993
…………….. 3 Isabella McGEE b: 1868, d: NZ
…………….. + Bernard MURRAY b: 1867 in Ulladulla NSW, m: 1890 in Waterloo NSW, d: NZ
………………….. 4 Marie MURRAY b: 1890
………………….. 4 Nita MURRAY b: 1890
………………….. 4 Eileen MURRAY b: 1897
…………….. 3 Rosina G (Rosey) McGEE b: 1870 in Ulladulla NSW
…………….. + Alfred E GEARY b: 1881, m: 1903 in Paddington NSW
…………….. 3 Charles McGEE b: 1872 in Ulladulla NSW, d: 20 Feb 1876 in Ulladulla NSW Bur. Armstrong Forest
…………….. 3 James B McGEE b: 1875 in Ulladulla NSW
…………….. 3 Lila B McGEE b: 1878 in Ulladulla NSW
…………….. 3 Thomas William McGEE b: 1881 in Ulladulla NSW, d: 1943 in North Sydney NSW
……….. 2 Mary McGEE b: 1838 in Templecarn, Co Fermanagh, IRE, Arr. Australia: 02 Oct 1855 per 'Hilton" from IRE, d: 24 Nov 1880 in Bur. Armstrong's Forest, NSW
……….. + Ralph JOHNSTON b: 1834 in Ireland, Arr. Australia: 16 Nov 1855 'Chowringhee', m: 1858, d: 14 May 1921 in Bomaderry, NSW. Bur. Nowra NSW
…………….. 3 Dorinda May JOHNSTON b: 09 Nov 1860 in Conjola, NSW, d: 1943 in Nowra NSW
…………….. + Henry KNIGHT b: 1863 in Braidwood NSW, m: 23 Dec 1885 in Cambewarra, via Nowra NSW, d: 1931 in Berry NSW
…………….. 3 Alexander JOHNSTON b: 1862 in Conjola, NSW, d: 21 Jun 1930 in Berry, NSW
…………….. 3 James Joseph JOHNSTON b: 1864 in Conjola, NSW, d: 05 Dec 1939 in Milton, NSW Bur. Conjola NSW
…………….. 3 John JOHNSTON b: 1866 in Conjola, NSW, d: 1952 in Milton, NSW Bur. Moruya, NSW
…………….. + Bridget Ann RYAN b: 1859 in Deua River, m: 1907 in Moruya, NSW, d: 1939 in Moruya, NSW
…………….. 3 Charles JOHNSTON b: 1867 in Conjola, NSW, d: 1882 in Conjola, NSW
…………….. 3 Ellen JOHNSTON b: 1870 in Conjola, NSW, d: 1953 in Rose Bay, NSW
…………….. + Robert W WEBB m: 1903 in Sydney NSW, d: Bef. 1932
…………….. + George TURNBULL m: 1932 in Sydney NSW
…………….. 3 Rose (Rosina) JOHNSTON b: 1872 in Conjola, NSW, d: 16 Jul 1954 in Nowra, NSW
…………….. + James M GERREY m: 1900 in Nowra NSW, d: 09 Apr 1953 in Nowra, NSW
…………….. 3 Thomas JOHNSTON b: 1873 in Conjola, NSW, d: 31 Aug 1947 in Yatte Yattah, NSW Bur. Conjola NSW
…………….. 3 Ralph JOHNSTON b: 23 Mar 1874 in Conjola NSW, d: 1945 in Lismore, NSW
…………….. 3 Annie JOHNSON b: 1877 in Conjola, NSW, d: 1938 in Nowra, NSW
…………….. 3 Frank JOHNSON b: 1878 in Conjola, NSW, d: 1970 in Lismore,. NSW 
…………….. 3 Christopher Robert JOHNSTON b: 18 Jan 1880 in Conjola, NSW, d: 17 Oct 1971 in Milton, NSW Bur. Conjola, NSW
…………….. + Susannah Josephine CONNOLLY b: 08 Dec 1879 in Conjola, NSW, m: 1906 in Yatte Yatteh, NSW, d: 24 Aug 1951 in Yatte Yattah, NSW Bur. Conjola, NSW
………………….. 4 Norman Ralph JOHNSTON b: 09 Sep 1907 in "Lakeview", Conjola, NSW, d: 07 Jul 1976 in Yatte Yatteh, NSW
………………….. + Helen Patricia OGILVIE b: 24 Aug 1916 in Dubbo, NSW, m: 31 Aug 1940 in St Anthony's Catholic Church, Clovelly, NSW, d: 05 Sep 1998 in Milton, NSW
………………….. 4 Gordon Robert JOHNSTON b: 19 Aug 1909 in Milton, NSW, d: 19 Mar 1910 in Conjola, NSW
………………….. 4 John Royden (Roy) JOHNSTON b: 28 Jan 1911 in Conjola, NSW, d: 08 Feb 1987 in Randwick, NSW Bur. Bathurst, NSW
………………….. + Gertrude Ann SALTER m: 1951, d: 1968 in Woodburn, NSW Bur. Bathurst, NSW
………………….. 4  daughter Johnston
………………….. + Leslie HEATHCOTE m: 1973
………………….. 4 Son JOHNSTON
………………….. 4 Ethel Gertrude JOHNSTON b: 18 Oct 1916 in Conjola, NSW, d: 08 Dec 1997 in Kiama, NSW
………………….. + Richard Milton (Dick) KELLS b: 1916 in Milton, NSW, m: 1945 in Sydney, NSW, d: 03 Oct 2005 in Kiama, NSW
……….. 2 Thomas McGEE b: 1838 in Templecarn, Co Fermanagh, IRE, Arr. Australia: 02 Oct 1855 per 'Hilton" from IRE, d: 19 May 1884 in Yatte Yatteh, NSW, Bur. Armstrong's Forest, NSW
……….. + Catherine (Kate) McCARTHY b: 1849 in Yass, NSW, m: 16 Nov 1865 in Redfern NSW, d: 10 Jun 1910 in 334 Riley St, Sydney NSW
…………….. 3 Mary McGEE b: 09 Jan 1866 in Ulladulla NSW, d: 24 Feb 1876 in Ulladulla NSW Bur. Armstrong Forest
…………….. 3 John McGEE b: 1867, d: 08 Apr 1916 in Casino NSW
…………….. 3 Thomas James McGEE b: 18 Mar 1869 in Ulladulla NSW, d: 07 Jun 1906 in Cobar NSW
…………….. + Elizabeth J WALKER m: 1900
………………….. 4 Marjory A McGEE b: 1903
…………….. 3 Phillip McGEE b: 15 Feb 1871 in Ulladulla NSW, d: 22 Mar 1917 in Goodooga NSW
…………….. + Nora MEAGHER m: Abt. 1895 in Temora NSW
…………….. 3 Catherine Maud McGEE b: 23 Apr 1873 in Ulladulla NSW, d: Bet. 1940–1949
…………….. + Harold Archibald ARNOLD m: Abt. 1903 in Sydney NSW
………………….. 4 Ida Sadie ARNOLD b: 1904
…………….. 3 Charles Ernest McGEE b: 1874, d: 1947
…………….. + Josephine M Verginnette STAFFORD m: Abt. 1912 in Lithgow NSW
………………….. 4 Sheila Mary McGEE b: 01 Feb 1913, d: Abt. 1945
………………….. 4 Jack Stafford McGEE b: 11 Apr 1915
………………….. + Dorothy Mary DOP m: 1948
………………….. 4 Mary Veronica McGEE b: 1917, d: Aft. 1945
………………….. 4 Joan Audrey McGEE b: 1919
………………….. + Kingsley MERES
…………….. 3 Herbert Francis McGEE b: 16 Aug 1877 in Ulladulla NSW, d: 05 Sep 1941 in Randwick NSW
…………….. + Anna Charlotte ROSTECK m: 1919 in Waverley NSW, d: 1922 in Hurstville NSW
………………….. 4 Frances Phyllis McGEE b: 12 Jan 1920
………………….. + Arthur Henry WALKER m: 31 Aug 1940
………………….. + David GODFREY-SMITH b: 15 Feb 1917, m: 03 Oct 1989
………………….. 4 Charles Rosteck McGEE b: 21 Mar 1921
………………….. + Ceceli McGEE#
…………….. + Else Mary SUTTOR b: 28 Jun 1888, m: 1936 in Sydney NSW, d: 1988
…………….. 3 Arthur Oswell McGEE b: 27 May 1879 in Milton NSW, d: 09 Jun 1925 in Randwick NSW
…………….. + Louisa M PEARCE nee STAFFORD m: 1909 in Redfern NSW
………………….. 4 Herbert Charles McGEE b: 13 Apr 1910, d: 1980
………………….. + Edna PEARSON m: 1944
………………….. 4 Phillip Oswald McGEE b: 01 Jan 1912
………………….. + Ellen ROSSITER m: 1937
………………….. 4 Ambrose Leslie McGEE b: 24 Mar 1916
………………….. + Judith Mary LANE b: 1921, m: 04 Mar 1939 in Hamilton
…………….. 3 Reuben D'Arcy McGEE b: 30 Jun 1881 in Ulladulla NSW
…………….. + Lucy Lurline SMITH b: 1881, m: 23 Oct 1902 in Wollongong NSW
………………….. 4 Ambrose A McGEE b: 19 Dec 1903, d: 14 Mar 1904
………………….. 4 Herbert Francis McGEE b: 19 Dec 1904, d: 31 Dec 1904
…………….. 3 Harold McGEE b: 01 Nov 1882 in Nr Yatte Yattah NSW, d: 08 May 1954 in North Sydney NSW
…………….. 3 Percy Ambrose McGEE b: 18 Jan 1884 in Milton NSW, d: 08 Apr 1950 in Marrickville NSW
…………….. + Elizabeth May (Jude) HASTIE b: 24 Apr 1892 in Forbes NSW, m: 14 Apr 1920 in Annandale NSW, d: 12 Mar 1953 in Petersham NSW
………………….. 4 Gwendoline Catherine McGEE b: 28 Dec 1920, d: 25 Dec 1972
………………….. 4 Eileen Mary McGEE b: 09 May 1922
………………….. + Frederick Maurice LEAHY
………………….. 4 John William McGEE b: 16 Aug 1926, d: 31 Jul 1951
………………….. 4 James Michael McGEE b: 24 Dec 1927
………………….. + Valerie Gertrude JOHNSON b: 1930, m: 08 Jan 1949 in Marrickville NSW
………………….. 4 Donald James McGEE b: 26 Jul 1930
………………….. + Patricia HOWATSON b: 1934, m: 25 May 1963, d: 31 Oct 1989
………………….. + Annie Irene CROOKS b: 1940, m: 21 Apr 1995
……….. 2 Charles McGEE b: 1841 in Templecarn, Co Fermanagh, Ireland, Arr. Australia: 02 Oct 1855 per 'Hilton" from IRE, d: 28 Apr 1924 in LSofP Home Randwick NSW
……….. + Rosina THOMAS b: 26 Apr 1834 in Hobart TAS, m: 1883 in Milton NSW, d: 06 Apr 1919 in Yatteyattah, Ulladulla NSW