Which of these two of our early pioneers arrived first on the southern end of Milburn Creek at the Lachlan River?
Edward MARKHAM or Nicholas JORDAN?
      The Markham/Jordan stories in colonial New South Wales run together through and beyond the lifetimes of the two transported Irish detainees. Each was convicted for "crimes" relating to their opposition to British rule in Ireland – Edmund Markham in Co Limerick in 1822 and Michael (now Nicholas) Jordan in Co Longford in 1826. They were sent to NSW in those years on the "MANGLES" and "BOYNE" respectively. The detail of their lives and families can be found on my website as 1822 Markham and 1826 Jordan.
      The relationship of the families continued through the years. Among the first generation, Nicholas Jordan married Edward Markham's widow, in the next generation Mary Julia Jordan married Thomas Markham, Rose Jordan married William Markham, and so on through the generations. There are many people these days, with varying local surnames, who can claim direct descent from both pioneer families, (unlike the writer, who is descended from Edward and Bridget Markham only.).
      Consequently, I have long wondered which of the two settlers and their families arrived in the Darbys Falls[1] area first – both most likely in the first half of the 1830s.  Precise dates are probably beyond us.
      Nicholas Jordan arrived in the region in 1826, straight off the "BOYNE". The Ship Indent notes that he was "….disposed of to Dr Redfern." However the 1828 Census records him as being assigned to John Grant[2]  some 60 miles west of Bathurst. A note written on the "Family Chart"[3] states that "….In 1832 at Darbys Falls where he was a farmer at Clifton Park."  His applications for land are all dated, of course, after his late 1841 Conditional Pardon[4], so in the 1830s he was clearly an assignee (convict) on someone else's land – perhaps the W R Watt 1000 acres on Milburn Creek a few miles north of the Lachlan, or on land which later became  named as Clifton Park at the Lachlan junction..
      His wife and two daughters arrived on the "Caroline" 6 August 1833 to join him.  Perhaps his descendants may bring forward any information, if it exists, about their whereabouts between 1833 and JNJ's birth at Milburn Creek in June 1834. Did they go, for example, direct to Milburn Creek? Her Cowra Free Press obituary[5]  stated that she "…died at her homestead at Milburn Creek where she had resided since her arrival in the colony," but does not place her precisely at Milburn Creek or Clifton Park between August 1833 and JNJ's birth in July 1834.  Nor does her Town and Country obituary do so but it suggests the family moved to what became Clifton Park after some years elsewhere on Milburn Creek. See footnote 23 below.

      Edmund Markham was assigned to James Byrne at Airds, now Campbelltown, on arrival on the "MANGLES" in 1822 we are not sure how long he stayed with Byrne and though there is a single indication that he may have been in the Windsor area, have not been able to ascertain his whereabouts until 21 August 1824, when started with John McHenry[6] at Evan, now Penrith. Could he have visited the area as an assigned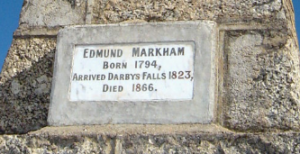 servant in 1823? The plaque "Arrived Darbys Falls 1823" placed on the Markham monument at Darbys Falls at least 50 years after Edmund's death can't be treated seriously….or can it, particularly as we do not know where he was, and/or who employed him in 1823? See my note here.
      If he visited the area any time between 1824 and his departure from the employ of John McHenry in 1830[7], he may have done so in the employ of McHenry. When he did eventually leave he spent a few months in Sydney in 1830 as a Constable and (unsuccessfully, we have believed, but see below re his 1002 acres).  His bid was supported by Rev. Henry Fulton and John McHenry.  McHenry (as well as Rev Fulton, McHenry's close friend), was listed as a property holder in the Brisbane Valley, south east of Bathurst. The Davidson Survey shows that Markham was well into settlement by 1839 when he was working almost 3,000 acres. He was from 1839 winning contracts for supplies to the Colonial Government for police horses at Bathurst.[8] He had 330 cattle on a licensed[9] 8 square mile property beyond the Limits of Location at Bald Hill near what is now Grenfell.[10]
EARLY TRAVEL TO THE AREA.
1820. The earliest visit by any European appears to be a survey in April 1820 by Deputy Surveyor – General James Meehan who travelled from Goulburn, crossing the Lachlan, travelling north along Milburn Creek to the Wellington Valley near Bathurst.
1826. September. A Government order allowed Governor Darling to create the limits of    location. Settlers were only permitted to take up land within this area. Milburn Creek and the Lachlan River were at the very edge of the "Limits of Location".
1829. The Dixon map of NSW published in 1837, prepared in 1829, shows Milburn Creek with no settlers, though Rev Fulton's block is shown further along the Lachlan near where Cowra now stands.
1831 July. No more free grants (except those already promised) be given. The new regulations were notified in a Government Notice of 1 July 1831 and published in a Government Order dated 1 August 1831.
Edmund Markham petitioned[11] (giving his address as EVAN) Governor Darling on 2 March, 1830, for land, stating he "is 28 years old , unmarried, free, that (he) possesses two horses, and 10 head of horned cattle,"[12] without stating where they were held. He sent a reminder[13] on 28 April from Gloster (sic) St, in The Rocks, stating he was "….quite destitute of any residence or place for my cattle." No action was taken until after a changeover of Governors[14], but presumably the bid came within the definition of "…. those already promised," as there have been notations of "Reg 1831" on his 1002 acre block since, and this block was never put up for lease in the flurry of offers in subsequent years.[15]

Consequently, it is worth speculating that Markham was living at Milburn Creek at least since 1831, perhaps some months earlier, given his departure from the Sydney Police in mid 1830.
The later surveys also noted Reg. 1831 on the Thomas Higgins[16] block referred to below.

While Higgins apparently never lived on the site, John Neville certainly did. It may be that Neville, who was also given his Certificate of Freedom in 1829, came to Milburn Creek about the same time as Markham. He farmed the "Higgins" block ad other sites, and was a Publican in Bathurst, for some years. That's all for another story.
1830s. Some time in the middle of the decade W R Watt held an 1100 lease on the east side of Milburn Creek just above and across the Creek from the Higgins land. This is the block Jordan applied for and leased in his own name for a few years after his pardon. When Jordan applied, he referred to the block as "….formerly leased by Mr William Watt my Agent for me, viz, 1100 acres."  The question arises: Was Jordan assigned to Watt and living there? His widow's obituary referred to below suggests the possibility.

1834. JNJ Jordan born at Milburn Creek 18 July 1834. Precise location not known.(Other children later on Milburn  Creek.)
1836. James Markham born at Milburn Creek 14 July 1836. Precise location not known.(Other children later on Milburn Creek.)
1836. Apart from some land made available at the northern end of Milburn Creek, well away from the Lachlan River, the first reference in the NSW Government Gazette is the notification of the sale of Lease for 850 acres more or less, on 14 September 1836 "…applied for by Thomas Higgins"[17]. Richards on 23 October 1836 measured the land (later recorded with the term ""Reg. 1831", with the notation "Higgins for Neville".[18] He noted that Neville had built some buildings on the site.[19]
1836+. The Baker Map of the Bathurst County, prepared some time after 1835 (though published later) shows some settlement, including Markham on his 1002 acre block, as well as an outline of the 1102 acre block broken up in the 1840s and then part purchased by Jordan.
1837. NSW Gazette of 9 March 1837 advised of the auction of one year leases of two blocks 900 and 1020 acres. W R Watt is noted in that Gazette as holding 1100 acres on the western side of Milburn Creek. Presumably this is the block Jordan applied for and leased in his own name for a few years after his pardon. When Jordan applied, he referred to the block as "….formerly leased by Mr William Watt my Agent for me, viz, 1100 acres."
1838. NSW Gazette of 15 March 1838 Sale of leases 1020 and 900 acres on Milburn Creek. Former lessee and present lessee Edmund Markham.
1839. Davidson's Survey[20] in 1839 shows three blocks named to Markham and one named to Thomas Higgins. The area covering what became Clifton Park is blank.
1840. Richards' Survey[21] in 1840 shows blocks against the names of Markham and John Terry Hughes, and two blocks for which a Lt Gregory had made an application to purchase. One of the Gregory blocks (1200ac.) covers the present location of Clifton Park. The Gregory[22] purchase apparently did not proceed and the area was unallocated into the 1840s.
1841 April. NSW Census. N. Jerdine (sic Jordan) and family are listed as living at Milburn Creek (no reference to Clifton). The Census taker travelled by way of Grubbengong, Waugoola, Milburn Creek Neville, Milburn Creek Jordan, Milburn Creek Markham, It is understandable that he would have compiled his lists in that order without any backtracking. Listing Jordan before Markham suggests that Jordan was living near Neville, possibly, I believe, on the W R Watt site. As an unpardoned convict, he could not have been living as a squatter on the unallocated land later to be the site of Clifton Park. Even if Markham was in 1841 living at Springvale rather than on his original 1002 acre site, the census taker would reach Jordan first, on the W R Watt 1100 acre site.
My view that the family residence in the 1830s, though on Milburn Creek, was not/not on the (future) Clifton site is reinforced by Sarah Smith's obituary in 1892 which states
"….arrived at Milburn Creek, a short distance from the scene of the lamented lady's death, where they settled down for many years; eventually removing to Clifton Park, on the banks of the Lachlan River, where the whole of the remainder of her life was spent.."[23]
AFTER 1841
       It will be noted that Nicholas Jordan's name does not appear in 1830s land matters. This is because he would not have been eligible to apply for land until receiving his Conditional Pardon in 1841. If he did live on land now known as Clifton Park, why can't I find any information as to whom he was assigned , or whether Clifton Park even existed in the early 1830s? In fact it is likely that he lived on the W R Watt 1100 acres block near the Higgins block until well after gaining his Pardon.
      The 1200 acres block named for "Lt Gregory" in the Richards 1840 Survey was advertised as 1102 acres through the 1830s, not allocated, leased to Thomas Shaughnessy, another 1822 Mangles transportees, for three years until 1847, and eventually broken down to several smaller lots, but not until the 1850s. Some of these lots, where Clifton now stands, are named to Jordan (as the initial purchaser in the 1850s), in the cadastral maps.
      Because of the location of JNJ's birth in 1834, Jordan was surely working at Milburn Creek for someone else – perhaps John Grant[24], or perhaps W R Watt. John Grant, upon emancipation some years earlier was given a start in freedom by his then employer Dr John Redfern, who gave him some land. Can we speculate whether Grant in turn, or Redfern, or Redfern's nephew W R Watt who had licence for 1100 acres a few miles north (and which Jordan bid for after gaining freedom), similarly helped Jordan by passing to him the opportunity to purchase the land he had been managing?
CONCLUSION
      It is safe to say:
That Edward Markham arrived at Milburn Creek between 1830/1831 (his 1002 acres), and 1836 (James' birth) – more likely the former, while discounting the 1823 plaque; and

That Nicholas Jordan arrived at Milburn Creek between 1828 (Census has him assigned only 60 miles away) and 1834 (JNJ's birth). Note also that the handwritten Family Chart referred to above has 1832 as his arrival. The date of his move to Clifton Part is likely in the 1850s.

     My conclusion is that I cannot, from any information I have, satisfy myself as to precisely when Edward Markham and Nicholas Jordan arrived at Milburn Creek, and who came first. I think I have all the discovered Markham facts. These don't answer the question, but hopefully some Jordan family descendants, or papers in the Grant, Redfern or Watts archives, will help solve the problem.
In any case I would welcome any corrections and gap fillers. In the meantime here is a summary outline.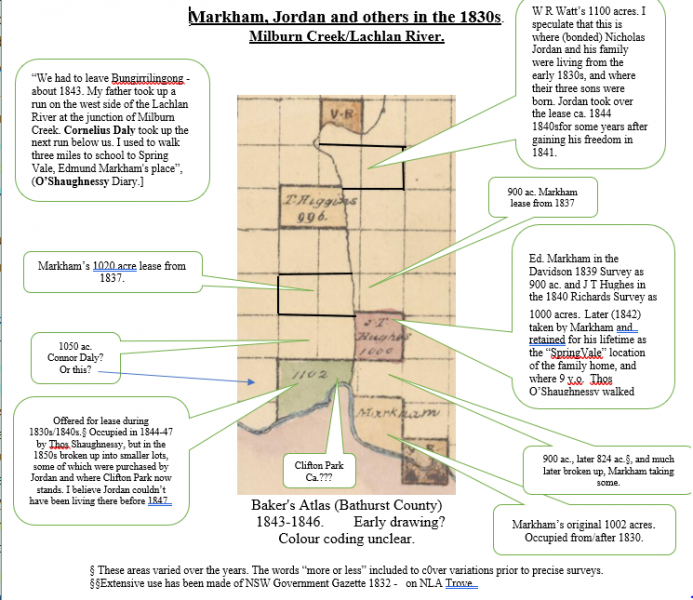 FCM
11 December2017
Footnotes
(↵ returns to text)