Welcome to my web site.   Genealogy detail is of particular though enduring  interest to individual descendants. The process of assembling information from old records and memories is unending. So  I shall be pleased to be advised of errors and omissions, and am happy to correspond with readers, whether descended from my pioneers or not, on any matters covered in these pages.
         There is a predominence of Irish material, both in Ireland itself and among the early Irish in New South Wales. This derives from the fact that fifteen of my sixteen great great grandparents were Irish. And the sixteenth, born in the Colony had an Irish mother and an English father.
           The added bonus of my genealogy research is the exposure of early colonial New South Wales life of  settlers in a new land, and their interaction with their communities. Consequently, much of the recorded social and historical information in these pages goes beyond genealogy and deserves a wider audience. My objective, in setting up this website, is to advance that process.  In that context, I have gone sometimes beyond blood relatives and included families to whom "my" families were connected by marriage in the early days of settlement. At the same time, I thank my relatives, close, distant, and very distant, for their contributions to these papers. Hopefully, once they examine these records, they will be encouraged to continue their own research.
     The story of the wreck of the "Letitia" en route to the Colony in 1828, with among others, my g g grandfather Edward Conyngham, is an interesting one. I have added recently most of my research notes which build extensively on the basic incident.    
      Father Timothy Reen's 1939 booklet "Catholic Cowra – An Outline of Its History"  contains a great many names and locations of interest to historians and genealogists researching the Cowra region and its pioneer Irish settler families, including many of interest to me. Consistent with my aims expressed above, I have added the searchable text to my website. Similarly, I have added J C Ryall's "Cowra in Days Gone Bye" which chronicles early Cowra and our pioneers.
         My g. g. grandfather, Edward/Edmund Markham was an early Irish political transportee – under the UK's Irish Insurrection Act. Markham's full story is here. He was assigned to an employer in Airds in western Sydney, and after 1824, spent six years an an overseer on the property of John McHenry, JP, in Nepean, now Penrith. However, our research has failed to trace him in the years 1823 and 1824. See the background to our search here. We need help.
       I have lately added a note re the earliest settlers on Milburn Creek at the junction with the Lachlan River. Hopefully, readers might have information to answer the question -Of Markham and Jordan, who was there first? The note is here.
       The comprehensive Murray Family text, "The Murray Story", which is here, has been self published by my sister, Joan Murray Dawes.
        As to the painting above, which I purchased  at a  footpath stall in Portobello Road, London, in the 1970s, who might "S W C" have been in North Sydney in 1866? I have tried very many sources over the years without identifying him or her. Samuel Calvert, who designed our stamps at the time is a possibility but, so far as I can see, he never signed his name in this way. Was the artist professional or amateur, resident or visitor? Late nineteenth century artist? Help!
       On the other hand, I have no problem identifying the origin of the map below, "A Chart of Part of the Interior of New South Wales", which I purchased in Edinburgh in 1977. John Oxley (1784 – 1828), NSW Surveyor General and explorer, is well known for his role in our early colonial history and his early NSW expedition maps. 
 Exploring the Lachlan: Once the Blue Mountains had been crossed in 1813, and the town of Bathurst established, the colony wished to expand. Wool had become Australia's first main industry and more land was needed for sheep. In 1817, Oxley set off to explore the country west of Bathurst.  Evans had discovered the Lachlan River and so Oxley set off to explore this river. Some of the party rode horses while others travelled in boats. They had taken with them salted meat and at the end of each day's journey would camp and go fishing. This provided a change from the salted food. Tall thick grass made the going very difficult and eventually they found their way was blocked by marshes. Leaving their boats, they started off south west and came across very dry country. The horses became very weak and started to die. The men were forced to eat dingo, emu and snake.

The explorers turned north west and again came across the Lachlan. They continued downstream until they were again blocked again by marshes, causing them to turn back. Oxley believed that the interior was marshland and unsuitable for settlement. Little did he know that he was a few days  away from the Murrumbidgee and large areas of good land.  Food was running low, so he returned to Bathurst. [David Rielly – Australian Explorers.]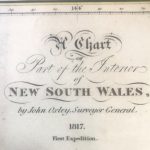 [NOTE: This website is a work being continuously developed. March/April 2018.]