Where was Ed Markham in 1823/1824?
                         Did he really visit the Lachlan in 1823?
Edward Markham, having been sentenced to 7 years under the (UK's) Irish Insurrection Act, arrive on the ""Mangles" on 8 November 1822.[1] 
Edward/Edmund was forwarded by river, direct to Parramatta from the ship on 12 November, with 116 other convicts, Markham to be assigned [2] to James Byrne of Appin (who also had land in Evan, now Penrith). We are still unclear whether he took up duty with Byrne, and if so, whether at Appin or Evan. We have no record of his assignment apart from this document, until he started with John McHenry at Evan, now Penrith on 21 August, 1824.
Did he visit the Lachlan River area while assigned to whomever in the 1823/1824 period? No evidence.
Edmund Markham was "received in service" of John McHenry at Evan (now Penrith) on August 21, 1824.He spent some five plus years with McHenry, and staying with him until 1830 as Overseer [3] despite gaining his Ticket of Leave in 1827 [4] and Certificate of Freedom 1829 [5].It is possible that during this time he first visited the Lachlan River – but no evidence..  
Puzzle – A
On the left is the Markham Monument built about 1914, 92 years after Markham arrived in the Colony; and below it, the Monument 100 years later. On the right, is  plaque, affixed in about 1914, after the first photograph was taken, reading

"Edmund Markham, Born 1794, Arrived Darbys Falls 1823, Died 1866 can be seen"

The birth date on the plaque is misleading – he was born 1802.

Given that some 100 years had passed since his arrival in NSW and almost 50 years since his death, and noting the birth date error, one must, without any other proof, treat the 1823 date with caution.We know he was on Milburn Creek in 1836, when James was born. He left Sydney in 1830, so our only certainty is the first half of the 1830s

 
Puzzle B
The only success I have had searching for his whereabouts in 1823/1824 has been his name in the Windsor Constable's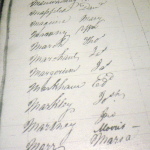 Notebook. These notebooks were prepared during preparations for a census and other record keeping in the Colony. Most of those I have seen have been made house by house, farm by farm etc so it has been possible to link assignees with their employer. Unfortunately the list on which I found Markham's name had been transcribed alphabetically for the district, making it almost impossible to identify his location at the time. [7]

WHERE NOW? WAS HE ASSIGNED AT THE TIME TO COX? MANY WERE, BUT THERE WERE MANY OTHER EMPLOYERS AT WINDSOR AND DISTRICT.
Footnotes
(↵ returns to text)