Mark Paten of Canberra and a descendant of the Harris and Lane families has recorded the details of the headstones in the Harris family cemetery at Bennett Springs outside Cowra, and has provided these notes. The photograph to the left shows the layout.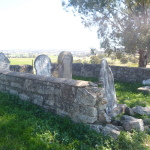 There are 3 known convict ancestors, Richard Newham arrived March 11, 1803, ("HMS Glatton"), Mary Burnett arrived April 11 1806, ("William Pitt"),  and John Dower arrived 19 February 1821, ("Lord Sidmouth").
Dicky Newham's crime was "Sheep Stealing". He was originally sentenced to death but in accordance with usual practice at the time for lesser offences, that was commuted to 14 years transportation. Mary Burnett who at the time was married to Benjamin Burnett was charged with "stealing as a lodger" stealing blankets, sheets etc. She was sentenced to 7 years transportation. Newham and Burnett married on 7 February 1807 at St. John's Church of England, Parramatta. They had 7 children, The second was Sarah born at Parramatta on 31 March 1809.
Sarah was almost 14 years of age when she married John Dower on 4
January 1823 at St John's Church Parramatta. John Dower and his brother Martin were convicted of highway robbery at Waterford Ireland in July 1819 and both sentenced to transportation for life. John and Sarah had 4 children, 3 girls and 1 boy.
The second girl Ellen was born 14 July 1830, married Francis Harris at St Saviours Anglican Church, Goulburn on 18 February 1846. Francis had arrived free, emigrating from Devonshire, England on 4 February 1841, ("Marquis of Hastings").
Francis Harris was granted title to Bennett Springs in 1854 but had lived there before the title was granted evidenced by the grave of Sarah Dower (Ellen's mother) who died 28 December 1853.
Francis and Ellen Harris had 14 children all born at Bennett Springs – 2 died in infancy. 2 sons Henry and Francis Jr are buried in the family cemetery.   
To see the  earlier notes by George
and Emelie Harris about the Harris
family and Bennett Springs, as well
as the Harris Outline Descendant Tree,