CHAPTER 7
James MURRAY (1822-1899)
 Annie McCAULEY (1827-1909)
'Rissmore', CONJOLA
          Taking up the story of James Murray, Charles & Susan's eldest son, there exists a first-hand account which was published in Volume 2 of Australian Men of Mark[1],a special commemorative work compiled to celebrate Australia's Centenary in 1888, described as a ' biographical dictionary of men of the times'.  It consisted of two-to-three page studies accompanied by a portrait drawing of the subject. Above is a fine one of James, which possibly makes him look somewhat younger than he would have been at that time.  His biography commences :
James Murray is a native of the county Fermanagh, Ireland, where he was born in the year 1822.  For seventeen years he resided in his native land, during which time he obtained what learning he could at the local schools, and worked on his father's holding.  The condition of the Irish people was such that there were no great prospects of advancement in the Green Isle.  …  The religion so dear to the Irish heart was proscribed, and its adherents were kept in a position of servitude and subjection … Influenced, like many others, by the force of circumstances, Mr. Murray left his native country, and in 1839 came to Australia with his parents, and after landing in Sydney went into the country, and for some years worked with his father on a farm until he was twenty-five years of age.  In 1847 he determined to start for himself, and looking about for some time he found the district of Ulladulla fair to see, with a rich soil and all that might make a settler prosperous and happy, and having a good knowledge of farming in all its branches, he entered on a farmer's life.
          The article then goes on to say that James stayed at Ulladulla for ten years, 'during which time he was most successful'.  That would take him to the year 1857.  However, in December 1854, some months before his marriage, he came into possession of 50 acres, conveyed to him by his father, Charles Murray Senior.  Probably, he spent some time on this land, clearing it and building a suitable dwelling for his new bride, before he, himself, purchased additional land in the area.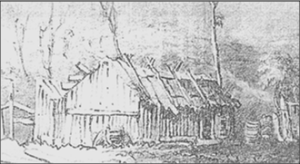 Initially, James, like the other settlers on the south coast, most likely relied on the forest's resources and built himself a hut of slabs and bark.  The materials for such a basic dwelling could be found easily enough and built using the hired labour of convicts or aboriginals. 
            The biographical article in Men of Mark went on to laud James' pioneering exploits in the following vein:
The returns to his labour were so great that he did not hesitate to try and improve himself, and find a better and larger scope for the exercise of his talents.  Being a man of an enterprising nature, he was not one to remain in one quiet groove.  By doing so, he saw that he would never increase his fortune; he therefore struck out in another direction, and leaving Ulladulla, went to Rismore (sic), situated about eight miles from Milton.  This place he found so suitable for him that he has, since his first settlement there, resided in it ever since, and during the thirty years of such residence he has not had any cause to regret the change. 
            If James was interviewed for Men of Mark about 1887, the 30 years quoted above, since leaving Ulladulla and going to live at Conjola, would make the timing about 1857.  The fact that this biographical article appears to be the result of a first-hand interview with James Murray, towards the end of his life, lends credence to the sequence of events and feelings expressed by him through the author of Men of Mark .
          James is described in the article as a man of great integrity and held, locally, in high esteem. His pioneering experience, as related for the book, was a valuable contribution to his descendants, some of whom still live on and work the land he bequethed them. When James first went to 'Rismore' he says he found nothing there but the virgin bushland.  He went on to clear the virgin bush and is considered to be the first settler in the Conjola district.
Beginning from the first work of clearing and opening the land, he steadily kept on improving and cultivating, until he brought his land to a state of high cultivation…. So much may he be considered the father of the district, that he was the first to mark out the road between Milton and Wandandian, one of the oldest tracks in that district.
          It is said that he used pick and shovel, horse and dray. This made the road between Ulladulla and Shoalhaven 40 miles instead of 50, and removed all saltwater crossings.[2]  The Men of Mark article continued:
Upon his farm, which consists of 400 acres of rich land he carries on a good dairy and agricultural business.  His herd consists of 150 head of cattle, which find rich pastures in his paddocks, and the rich return of his butter he sends to the Sydney market.  Like most of his countrymen, he has a keen love of sport, and has never been without some good blood stock – as witness, 'Fawn', 'Skater', 'Fernmanagh', and 'Vivian'…
            James was regarded in the district as a great horse fancier and known as a keen breeder of bloodstock.  The Murray men, descendants of James, have continued the tradition as breeders, trainers, riders and owners. Great-grandsons, Ken and Bede Murray went on to share this tract of land and carry on that heritage with their growing families.
            When James' marriage in 1854 was approaching, his father, Charles Murray Senior, began the process of conveying to his sons some of the land he had purchased, usually approaching the time of their marriage.  Thus, on behalf of James, on 20th December 1854, an Indenture was drawn up between 'Charles Murray of Ulladulla. Settler and Susan his wife of the one part and James Murray of Ulladulla aforesaid settler of the other part', as follows
Whereas the said Charles Murray being seized of the hereditaments herinafter described and intended to be hereby released has contracted with the said James Murray for the absolute Sale to him of the same hereditaments and the fee simple and inheritance thereof in possession free from all incumbrances for the Sum of One Hundred and Twenty Pounds … doth grant and release all that piece or parcel of Land in our said Territory containing by admeasurement Fifty Acres… situated in the County of Saint Vincent and Parish unnamed, near the head of Conjola Creek – commencing at a point on that Creek bearing North forty one degrees West, and distant ninety eight chains from a marked Oak Tree at the junction the creek forming the southern boundary of the Village Reserve with Conjola Creek …
           This document was signed by 'C. Murray' and the mark (X) of Susan Murray (Lot 14?)
              Now possessed of his own land and 32 years old, James married Annie McCauley, the daughter of Bernard and Cecilia (Duffy) McCauley of Moville, Co Donegal, Ireland.[3]  Annie also travelled on the ship 'Susan' from Ireland with her parents and siblings, arriving at Port Jackson in 1839.  They were married at Wollongong on 12 June 1855. Eleven days later, Bernard Brown, the travelling constable mentioned earlier, in a diary entry of 23rd June 1855, says that he saw, 'James Murray at Thomas's with his wife', and two days later on 25th June notes that, 'the bride and folks arrived about 10 tonight unexpectedly'.  His entry for 30th August says that he was 'accompanied to the station by Mrs. J. Murray, Miss Murray,' and others.[4]
           James and Annie's first child, a son, Charles Philip,[5] was born in 1856 but, sadly, died in 1858 [6] at the tender age of 1 year 10 months.  They had a second son, Edward Thomas, in 1857, followed by five more children, Charles Mordaunt, James Shannon, Mary Cecelia, Annie Magdaline and Bernard. 
     Illustrated opposite is a drawing of the original 'Rismore' [sic] homestead drawn by Varney Parkes.   The son of Sir Henry Parkes, Varney was a brilliant architect and geologist who lived at one time as a recluse on a property nearby. [7]  The steep pitch of the roof was to allow the water to drain off.
           At one time, the Murrays had, on their flat, a circular racetrack marked with furlongs. Tom Shields, researching his family in the area, said that he found his relatives raced horses against the Murrays in 1856 on Race Course Creek.[8]   On the topic of Murray horses and race meetings, The Illawarra Mercury of 9th May 1859 reported:
Mr James Murray of Conjola has sold his bay gelding Holyhock for eighty pounds at Braidwood.  This is the horse that won the hurdle races here [at Ulladulla], at Shoalhaven and now at Braidwood.  This is another instance of Mr Murray's superior judgment of horseflesh.
           James, and his brothers, Charles and Philip, were acknowledged as keen breeders of bloodstock, breeding such horses as Fawn, Skater and Fermanagh.[9]
Some Early burials
            On 19 March 1858, when the early death occurred, of James and Annie's eldest little son, Charles Phillip, his place of burial on 24 March was given as, 'Duckhole Ulladulla, Church of Rome'. [10] The Duckhole was the locally-known early name of the property at Armstrong's Forest, later called Avondale and originally owned by Charles Murray Senior and then Junior. 
            It is difficult to imagine the event of impending childbirth and infant death in the homes of the early settlers.  Of course, in those pioneering days, the mortality rate of both infants and mothers was high.  Midwives from neighbouring families assisted with the delivery of babies. Murray family tradition also has it that some aboriginal women in the early days assisted the pioneer emigrant women with their deliveries. 
           There were reports of outbreaks of diptheria in 1875 and scarlet fever in 1876, with the resultant deaths of many children in the district.  We can only imagine the stress suffered by their parents with sick children and sad infant burials in these early times; all those tiny graves to tend.  The first doctor for years in Ulladulla was Doctor Riley, who arrived in January 1876 and set up his practice.  His advent was received with joyousness by the little settlement.[11]
Schools
            The Milton Ulladulla Directory of 1874 lists James Murray of Conjola, Farmer – Member of [Armstrong's Forest] School Committee.[12]  Francis McMahon notified the CDE in a letter dated 28 May 1875 that William Egan, member of the RC School Board, Armstrong's Forest, had died and recommended Mr. Thomas Mitchell, storekeeper, Milton, and Mr. James Murray, farmer, as members of the Board.[13]  In the 1875 Milton Ulladulla directory, James is listed as a member of the School Board.
            It would appear that James Murray's children also attended the Armstrong's Forest RC School until, in 1877, the new Yatte Yattah Public School commenced operation on his brother Philip Murray's donated land.
A public school for Conjola
            As far back as 1874 local Conjola farmers headed by James Murray had started to push for the establishment of a school at Conjola.  In those days schools were not easily won unless the locals were prepared to provide the school building and the furniture to go with it, whereas the State would undertake to provide the teacher as well as the teaching and learning materials.  For a provisional school, a minimum number of fifteen children was required initially and then an average of at least ten in attendance daily.  If the average fell below ten, the teacher would be transferred and the school closed.   The Conjola school petition was successful.
            However, it seems there was a temporary school set-up at Conjola.  This did duty whilst a decision was made as to where to erect the permanent Conjola public school building. The Provisional Conjola School commenced in August 1874 in makeshift buildings. However, on January 26, 1876, James Murray had advised the Council of Education in Sydney that the building, where the school had been kept on a temporary basis, had been burned down, that all the furniture had been saved, and  another building had been offered.
School building commenced
          On June 18, 1878, John Connelly agreed, for the sum of £24 to stump and clear the two acres set aside for the new school.  The timber for the building had been cut by a local man, James Pantlin, who on 12 August 1878 wrote a disgruntled letter direct to the Council of Education in Sydney.  He was asking to be paid for his work, and stated that Mr. Murray had accepted the account and said he would pay it, 'when the money came down but no money has come down,' even though the school had been open some time.  He must have eventually been paid, but there seems to have been more problems with the teachers' accommodation. 
The first three teachers at the Conjola School were Miss Spann, Miss M. Maloney and Miss Bates.  In November 1878, Miss Bates, obviously of the protestant persuasion,  asked for a transfer complaining, 'There is no place convenient to the school to stop at except one which is Connolly's roadside Wine Shop and Lodging House where there is a good deal of drinking carried on at present.  The people are all Roman Catholics and some are saying that they would rather one of their own persuasion'. Subsequently, changing her mind, Miss Bates withdrew her transfer application, stating that she was now living quite happily there.
A Post Office for Conjola
         In 1878, there were 11 families resident in Conjola and many more in the surrounding area. [14] However, it appears likely that prolific petitioner, James Murray, was one of over 70 people who signed their names to a petition of September 1878 for the establishment of a local Post Office.  It was successful and the Conjola Post Office duly commenced operation on 1 June 1879.  Up till then, the closest post office was at Yatte Yattah where James' brother, Philip Murray, had been appointed its first postmaster.
The school closes and re-opens
            On 22 June 1880, the aforementioned teacher, Miss Bates, was sent to a training school and not replaced.  This meant the closing of the school and the cause of much ire on the part of the parents.  James Murray sent off yet another letter to the authorities on July 14, 1880, threatening that, 'if the school is not opened soon the parents will send their children to the nearest school which is the Denominational School at Armstrong's Forest'.
            The letter had the desired effect.  In response, a teacher was duly provided and the school re-opened.  James was not one to be intimidated by the school authorities.  The provisional school at Conjola was replaced by a proper Public School which operated as a full-time school from August 1880-1893.
Conjola Evening School
            The public school appears to have been used, also in the evenings, for further education classes for local adult students.  James Murray's sons, Edward (23), James (22) and Charles (20), were enrolled for, 'evening school at Conjola,' in 1882.  Of course, such a love of learning may have had something to do with the attractions of the young lady teacher. The teacher appointed in 1881 was a Miss Phillips, and it is recorded that, when she first went to Conjola, some of the inhabitants suddenly developed a great appetite for education.  As many as eighteen working youths applied for the opening of an evening school with Miss Phillips as the teacher! 
            In 1883, it appears there was still a problem with the mainly Catholic pupils attending the Conjola School and with their schoolteacher being another Protestant.  Mr. Turnbull, the then teacher, was asking for removal because attendances were unusually poor.
Five or six pupils, though enrolled at Conjola, are walking three and a half to five miles to attend the school at Yatte Yattah.  In fact, they are walking past Conjola School on their way.  No complaints have been made to me by parents.  Therefore I do not know of any cause for their removal, unless it is that I am a Protestant.  Mr. Ryan the teacher at Yatte Yattah is a Roman Catholic and nearly all those enrolled at Conjola with the exception of five pupils are Roman Catholics.
         It is not known if the Murray children (Annie then 13 and Bernard 12) were part of this exodus, but it is possible they preferred to go to school with their Murray, McGee and McMahon cousins at Yatte Yattah.
The Irish settlers
         It seems Conjola was 'truly an Irish town' –  as later described by a resident who went there in the early days with her family from Scotland.  In her reminiscences quoted in Congenial Conjola, she said that 'Those were times of some bigotry', and that she was then the only non-Catholic in the school and that at first the other children used to tease her because of this.  She went on to say that, despite the family's difficult beginnings, the families in Conjola, 'the McGees, the Duffys, the Murrays and so on, were truly wonderful to us'. [15]
         When attendance at the Conjola school thinned dramatically in 1893, Conjola lost its status as a Public School, but the remaining pupils still retained some education.  As a half-time school, an itinerant teacher, usually male, travelled from school to school, on horseback and spent half the week at Conjola. In June 1918, the school finally closed for want of sufficient numbers, though there were fourteen families living in Conjola.  However, James' community-minded son, Charles Mordaunt Murray, Clyde Shire Councillor and member of the Local School Board and nearest neighbour to the school continued to keep an eye on the property.
Rissmore, Conjola, 1885
              In the Milton Ulladulla Directory of holdings for 1885, there is an entry for Rissmore owned by James Murray with 444 acres, 15 horses, 94 cattle, 1 sheep and 40 pigs.   Maybe that one lonely sheep kept the grass down around the Rissmore homestead. The directories for 1890 to 1893 also show the Murray Family at Conjola – 'Rissmore' farmer. A butter factory was planned at Conjola from 1892.  Members of the Murray family were involved with this development, as with most events in the district.  The factory was completed and Mrs James Murray opened the buildings on November 12, 1895.[16]
Deaths of James and Annie of Rissmore
              The death occurred of James Murray of Rissmore at 77 years of age, on 22 July 1899.  His death record states that he was buried in Conjola Private cemetery.  This appears to be the earliest burial recorded in the private Murray burial ground at Rissmore. An announcement concerning his death appeared in the local newspaper :
Mr. James Murray, of Rissmore, Conjola, a resident of the Ulladulla district for 55 years, and one of the best known men in the South Coast district, passed away on Saturday afternoon last at his residence, at the age of 75 years.  The deceased was one of the earliest pioneers and was universally respected.[17]
               Another report dated Wednesday, August 2, 1899, stated
He had lived in the district for 55 years, and was buried on his property, "Rissmore". In a commanding position visible from the entrance gate, and between the avenue and the local schoolhouse.  Born in 1821 at Kesh in the Irish County of Fermanagh, Murray migrated with his family in 1839 and firstly settled in the Wollongong area.  When he reached the Ulladulla district, "the white families could be counted upon the fingers of one's hands, whilst the aborigines were numerous and fierce".
                A comprehensive obituary was published and is here.
   James Murray's wife, Annie, then lived on for another 10 years.  On 1 September 1902, she played hostess to the Most Rev. Dr. W. Kelly, Coadjutor Archbishop of Sydney, who was visiting the Conjola area.   He had lunch at Rissmore and blessed the private family cemetery of the Murray family there, before visiting the RC cemetery and 'prettily decorated' RC Church a mile away at Yatte Yattah.  Annie Murray died on 25 January 1909, aged 82 years.  She was also buried in the Rissmore private burial ground with her husband, James. Her death is recorded on the same headstone with the words:
'Our Dear Mother ANNIE
Wife of Above'
There are several other members of the Murray family buried in this private cemetery on the Murray farm quite close to the highway.
All these years later, (2013) –  156 years after clearing and settling on his land at Conjola, the original property Rissmore is still owned and nurtured by descendants of Conjola pioneer James Murray from County Fermanagh, Ireland. 
We  now observe the first generation NSW born children of James and Annie Murray of Rissmore and their lives in the Shoalhaven
 Click here for the stories of the seven children .
To go to Chapter Eight (Philip), click here.
To return to the Murray Family Parent page, click here.
---
Footnotes
(↵ returns to text)
Men of Mark was published in Sydney in 1889-1890 under the editorship of Everard Digby.↵
 Nulladolla, Milton-Ulladulla and District Historical Society NSW, Ulladulla, 1988  (p.37).↵
 According to Death Reg. No 2261/1909 her parents were James and Annie but it appears she arrived in Australia on the "Anne" in February 1939 with her parents Bernard and Cecelia (Duffy) . McCawley/McCauley. – [grandparents James McCawley of Carrickmacross, Monaghan and Catherine Kinlan of Moville, Donegal].↵
 Brown, Bernard – Diary.↵
 Illawarra Mercury  BDM Index 1856-1900, p.109 (Phillip birth 26.04.1856).↵
 Illawarra Mercury BDM index 1856-1900, p.109 (Charles Phillip, death 19.031858,1 year 10 months).↵
 Varney Parkes (1859-1935) married Mary Cameron Murray on 21 March 1883.  She died five months later, and on 24 December 1884 he married her elder sister Isabella.  No connection known to the Conjola Murrays. He retired to Conjola after 1926 where he lived as a recluse, collecting fossils, sketching geological landforms, lecturing on evolution and teaching drawing. [ADB Online Edition].  May also have sketched the two 'Avondale' drawings.↵
Kath Cox, Ulladulla, descendant of James Murray – Interview by author, 1998.↵
Nulladolla p.37.↵
His name is not on the list of known burials at 'Armstrong's Forest Cemetery' or 'Yatte Yattah', which was not then consecrated.↵
Antill , R.G. Settlement in the south.  Kiama : Weston Co. Publishers Pty Ltd., 1982,  p126.↵
McLaren p.11.↵
Congenial Conjola.15.↵
Congenial Conjola.↵
McAndrew ,  Alex.  Congenial Conjola.  Epping NSW, 1991 p.27.↵
Bayley 1975 p.155.↵
Illawarra Mercury, 27.7.1899 in the 'Scrap Album'.↵