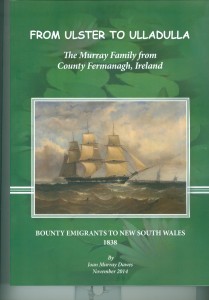 Joan Murray Dawes' "Murray Story".  Joan has published her completed study "From Ulster to Ulladulla – The Murray Family from County Fermanagh, Ireland." This very informative family and local history story, of 291 pages, and consisting of text, descendant trees, maps, certificates and photographs is now sold out but if eenquiries are desired, her contact  is at <dawesjm@gmail.com>.
       Names include Murray, Shannon, McGee, Johnston, Haughey, Dillon, Conyngham, McMahon, Tarlinton, Heffernan, Thomas, Skehan, Poidevan, Sands, Nicholls, Mccarthy, Brennan, Moore, McLean, Murden, Markham, O'Neill, Goldstraw, Hughes, Slattery, Cullen, Gallaghar, Headcroft, Morrison, Cleaver, and Boyle.
The texts of the main portion of her book, the first seven chapters in full, and the remaining six chapters covering the family and their first generations , are provided on this site.
MURRAY FAMILY OF FERMANAGH: ULSTER TO ULLADULLA
BOUNTY EMIGRANTS TO NEW SOUTH WALES
by Joan (Murray) Dawes.
 INDEX
CHAPTER
          TITLE
.
ONE
The Emigrants – Fermanagh in the 1830s.
.
TWO
Destination – Why New South Wales?
.
THREE
Voyage of the "SUSAN" – October 1838 to February 1839.
.
FOUR
Port Jackson to 'Garden Hill' Wollongong.
.
FIVE
Illawarra Immigrant Workers – 1840s.
.
SIX
Pioneering in the Shoalhaven – Ulladulla 1850s.
.
SEVEN
James Murray (1822-1899) – 'Rissmore' Conjola NSW.
.
EIGHT
Philip Murray (1824-1880) – Yatte Yattah NSW.
.
NINE
Mary Murray (1827-1860) – Steam Packet Inn Greenhills Shoalhaven NSW.
.
TEN
Ellen Murray (1830-1881) – 'Eagle View' Yatte Yattah NSW.
.
ELEVEN
Charles Murray (1832-1921) – 'Avondale' Yatte Yattah and Annandale NSW.
.
TWELVE
Margaret Murray (1836-1923) – Balmain NSW
      A descendant chart is to be found here.