[ Extract from "Time Remembered – The Cusack Family" by Ann (Cusack) Jaeger.]
"    We know very little of Mary Therese (Minnie) Cassidy's  young days. Her mother Mary Anne/Marianne was a native of Yass, daughter of Mr and Mrs Matthew McNamara; her father Peter Cassidy who had inherited a valuable property from his father but unfortunately lost it due to bad seasons. Her mother then became a schoolteacher in various country schools, Bathurst, the Blue Mountains and finally Good Hope where she retired aged 65. It was said that she used to spend many nights standing at the mantelpiece with a candle reading books. One can understand that the children's education would have been of a high standard. Minnie's sister Kate related that the children always addressed their mother as Ma'm.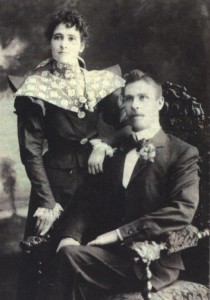 ….We are told that Minnie spent the early years of her life at Parkes, Hartley and Forbes in the Central West of NSW. On arriving in Yass, she opened up a dressmaking business in premises above Peterson's general store. The second child of Peter and Marianne her elder brother Jack's claim to fame was the purchase of a winning sweep ticket in the 1896 Melbourne Cup. With the £5000 winnings, he purchased a property which became the Newhaven Park Stud at Boorowa. She had five sisters, Sarah Duffy, Maggie Duffy, May Watson and Grace O'Neill. Her next sister Kate went to Tasmania to care for the children of a young widower, Bill Madden, and eventually married him.
….She married John Joseph CUSACK[1]  in 1898 (See photograpg taken on their wedding day) and settled successfully into the social life of Yass. She certainly had all the graces to complement her role as wife of a budding civic leader. J .J .Cusack'st two periods as Mayor in 1903-4 and again in1910, placed her in the role of Lady Mayoress, one of the loveliest, most elegant in the short history of Yass. She formed a Women's Political Association in 1903 and in an interview with the Yass Tribune Courier , expressed her attitude to women in politics, "I don't approve of women holding a seat in parliament but I believe that they would purify politics." There would certainly have been a change of heart had she known of her great granddaughter Catherine Cusack's election as a Liberal Member to the NSW parliament in 2003.She was President of the Benevolent Society, chaired meetings of the Yass Hospital Council and during the years of the Great War with the Red Cross, spun and knitted a great many socks and prepared comfort packages for the troops overseas.
….Her marriage to J .J .Cusack did not turn out to be entirely successful and there could be a number of reasons. They came from two different sides of the social divide. From an Irish pioneer home he had grown into a fine looking man with great oratorical skills and a vision for his country, but at heart he was a "bushwhacker". As such, he was not one to ascribe a great deal of importance to social niceties. In contrast she had the soul and demeanour r of a distinguished lady. She could put on a soirée and entertain all levels of society with intelligence and wit. The conflict in their viewpoints could not have been more clearly exemplified than in an incident when she was expecting company from the convent for afternoon tea and told him to dress suitably. As the reverend sisters came up the garden path towards the front door they found him sitting on the steps in his old singlet and his working trousers studiously cutting his toenails! Such nonchalant disrespect and he could hand it out in drayloads.
….When the grandparents moved to Canberra, Fardie commuted back to Yass frequently but Nana began her second life, throwing her boundless energies into the fragile new venture in the new capital city. It became her life's ambition to see Stan's enterprise grow and prosper. She did not want to have another failure in her life. From that time until 1952 at the amazing age of 82 she was there daily to advise, manage and create a highly successful furnishings department. With her tall, stately, slender figure she was an imposing lady, in her sixties and beyond. She also had taste and flair. Canberra came to her to dress their houses. As she was the acknowledged family matriarch, her adult children were always seen to defer to her. One might have wondered why, to the exclusion of others, she should receive such attention. Nevertheless she was deeply respected, for there was not much she did not know. For the grandchildren she was a bit of an icon and with few exceptions, her will was law. One small grandchild, resisting a dress-fitting session had once called her "a little bloody". No one remembers her reaction, but the grandchild is still alive.
….Nana had her moment of truth with John. She expected his first born son to be called John following in the tradition of John Joseph, John Stanley and John Bernard. When she told John that Stephen was not acceptable, that his son should also be called John, she actually met her match. He told her very firmly that there was nothing to discuss. "I choose to call him Stephen John and not John Stephen. " End of argument. David chided her once for ignoring a rep that had been waiting for so long while she was advising someone on curtains. Quick as a whip she retorted, "The paying customer always comes first; the others can wait." Generally, the family stepped around her rather than face up to an argument, for the snap of her eyes was enough to cause a back off.
….Apart from the furnishing business which she ran with a rod of iron, Joan and Ann benefited most from her sewing skills. Lovely dresses cut from gorgeous furnishing fabrics at the shop were run up in a day or two. With florals and shot taffeta she fashioned flaring skirts and frills, sashes and shoulder capes. She joyfully relived her youthful dreams. After a ball or party, she would expect the grandchildren to report back to her every detail of the evening. Like many women of her era she was a culinary queen. That was one of the basic skills they could shine in. John remembers her cake with passion fruit icing. The roasts she produced in the old Yass kitchen, he said, were first class too. Lyn recalls her "egg in the nest", coddled egg in mashed potatoes, which Nana made especially for her when she was 'babysitting her. Lyn confessed to being so nervous about sleeping over with Nana that she wet the bed.
….Jack and Minnie shared the flat in Flinders Way but rarely communicated. One could say they lived in parallel lives. A sacred daily ritual for Jack was the reading of the newspaper — a broadsheet — so that one must visualize the body deep in the lounge chair, hidden behind the outstretched paper except for a pair of legs and a tuft of silver hair. Perhaps she read the middle pages back and front first, because at intervals, a double sheet would be tossed to the left onto the floor, then the next sheet to the right followed by one over the shoulder, until all around and behind was carpeted with the discarded news. Dare one say he knew precisely what effect that silent display of nonchalance had on Minnie who, sitting across from him, snapped her eyes in disapproval. She knew that any expression of displeasure would be met with silence. Grandchildren who respected Nana were both horrified and delighted at this open display of sheer impudence."
Click here to return to 1841 McNamara.
Footnotes
(↵ returns to text)
  John Joseph Cusack (1868-1956), coachbuilder, garage proprietor and politician, was born on 8 August 1868 at Bellevale near Yass, New South Wales, youngest of six sons of Irish-born parents Michael Cusack, farmer, and his wife Ann (Bridget), née Boan, late Kenny. His schooling at Yass was brief and at 15 he was apprenticed to a blacksmith at Berrima. He gained experience in Sydney in his trade and in coachbuilding; much of his spare time was spent in libraries. He returned to Yass and on 11 April 1898, in the Catholic Church, he married Minnie (Mary) Theresa Cassidy, a dressmaker. Known as 'J.J.', he was elected to the Yass Municipal Council, was mayor in 1904. In 1910 he won the Legislative Assembly seat of Queanbeyan, and held Albury in 1913-17. Cusack entered the House of Representatives in 1929 by winning Eden-Monaro from John Perkins and surviving a High Court appeal. (Sir) Earle Page beat him in Cowper in 1931. [More detail in The Australian Dictionary of Biography, from which this note is taken].↵